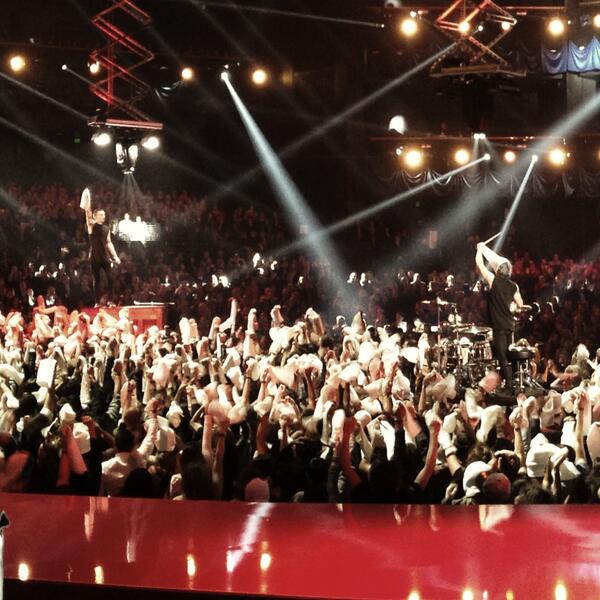 Coined as "the best kept secret in music", Ohio alternative pop duo twenty one pilots came away from one of the biggest performances of their career at the MTV Movie Awards leaving a lot of questions for the uninitiated. Namely, who is twenty one pilots? And what's up with those ski masks?
and now i just sit in silence.|-/ http://t.co/CdMXAhaSZ0 – pic.twitter.com/fGRI5RvXZi

— twenty one pilots (@twentyonepilots) April 14, 2014
Comprised up of Tyler Joseph and Josh Dun, twenty one pilots are an alternative pop group from Ohio. Together, they create and perform heavy lyrics set to upbeat, energetic music. In their own words:
Basically, we are all responsible for the preservation of our personal joy; but happiness is different. Joy is not circumstantial, happiness is. You can be depressed and still have joy. You can be suicidal and still have joy. We all stop thinking and we all stop talking and we all stop sharing and we all stop creating, because by doing any of these things we quickly find out just how unhappy we are. But that's okay. That's normal. Don't let the fear of unhappiness cripple your pursuit of finding what it is you believe. Since joy is found in belief, we all have to push through unhappiness to find joy.
Due to the emotional weight of their songs, the band has a strong following among the high school and college-age set. Their song, "Car Radio", which was performed Sunday night at the MTV Movie Awards, is one of those emotionally heavy songs. "Radio", which is the band's third and current single from their debut album, "Vessels", is a song where Joseph sing-raps about where his mind goes when the distraction of music is taken away from him. "I ponder of something terrifying/Cause this time there's no sound to hide behind," he muses in the second verse. 
The reasoning for the band's ski masks, which have become a signature of theirs and their fan following, called the Skeleton Clique, are varied. In an interview with USA Today, drummer Josh Dun said, "We thought it was kind of cool, new and different to wear masks onstage, but yeah, people were confused." (In live shows, singer Joseph balances it out with a floral robe while playing the ukulele.) While some fans feel as if "Car Radio" was a bold choice for a televised performance, others (okay, me) wonder if other songs, such was "Holding On to You" would've been a friendlier selection. Either way, the band saw a significant rise in their charting status on iTunes – moving Vessels to #1 on the alternative charts, and #10 overall – and the fanbase was more than ready to welcome newcomers or questioning viewers.
welcøme to the clique |-/ — skeletøn clique (@skeletonclique) April 14, 2014
Currently embarking on their headlining spring tour, tripforconcerts_2014, the band has played several festival dates and most recently, opened for Fall Out Boy during the Save Rock and Roll arena dates. To see when they'll be in a city near you, visit their official website.
Watch the music video for "Car Radio" below:

See twenty one pilots' MTV Movie Awards performance here: